Important
If you have found termites or termite activity, don't touch them, spray them, or break open wood / mud tubes. All these activities can make them more difficult to control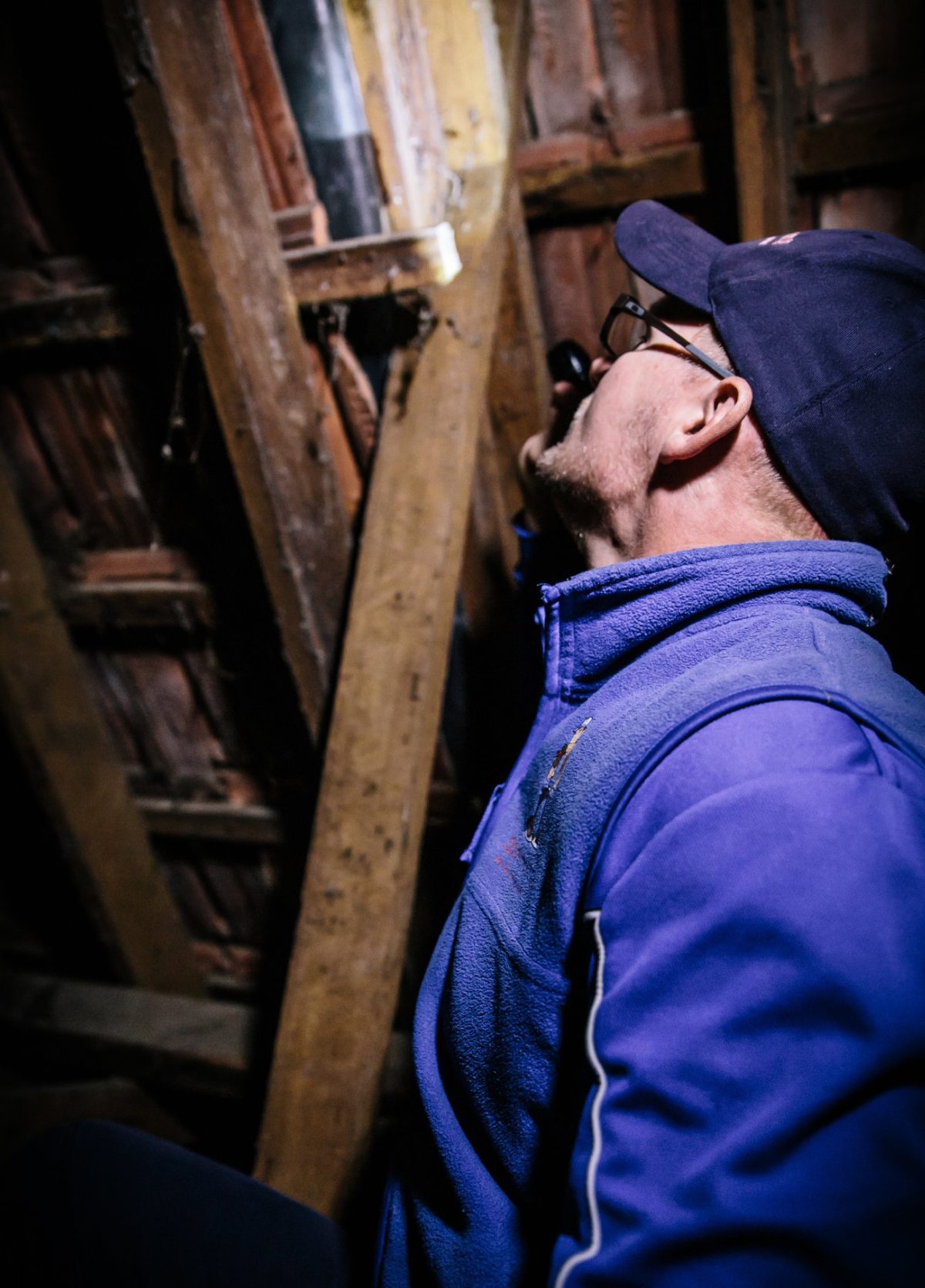 Our Comprehensive Termite Inspection
Although homeowners are generally after a termite inspection, Spiderman SE is a bit unique in that we provide a complete timber pest inspection, to include borers and wood decay as well as termites.
All our termite inspections are carried out according to Australian standards and AEPMA Code of Practice for Termite Management and will determine:
The level termite activity 
Whether there is any termite damage, and
If there are any conditions conducive to termite attack
What Areas Of Your Property Do We Inspect? 
Inspect all buildings, structures and attachments within the property boundaries. This includes full inspection every room in turn and of the roof void and subfloor areas (if present)
Inspect timber fences, decks, pergolas, outbuildings, trees and landscape timbers in a 50 m radius of the main building (within the property boundaries)
What Termite Inspection Equipment Do We Use? 
Donger: a tapping device for sounding wood construction elements for damage
Moisture metre: for finding leaks and potential areas of termite activity
Termatrac: the latest termite detection device
Termatrac T3i is a 3-in-1 device using three different technologies 
Moisture detector for elevated levels of moisture from leaks or termite activity
Thermal sensor to detect termite nests/areas of activity behind walls
Motion detector to pick up termite movement in walls and track their movements allow potential identification of entry points.
The use of the Termatrac device gives you (and us!) the confidence we have completed a comprehensive inspection and if we do detect termite activity it provides a great head start in designing an effective treatment program.
If you're worried you might have termites, stay calm and give us a call immediately: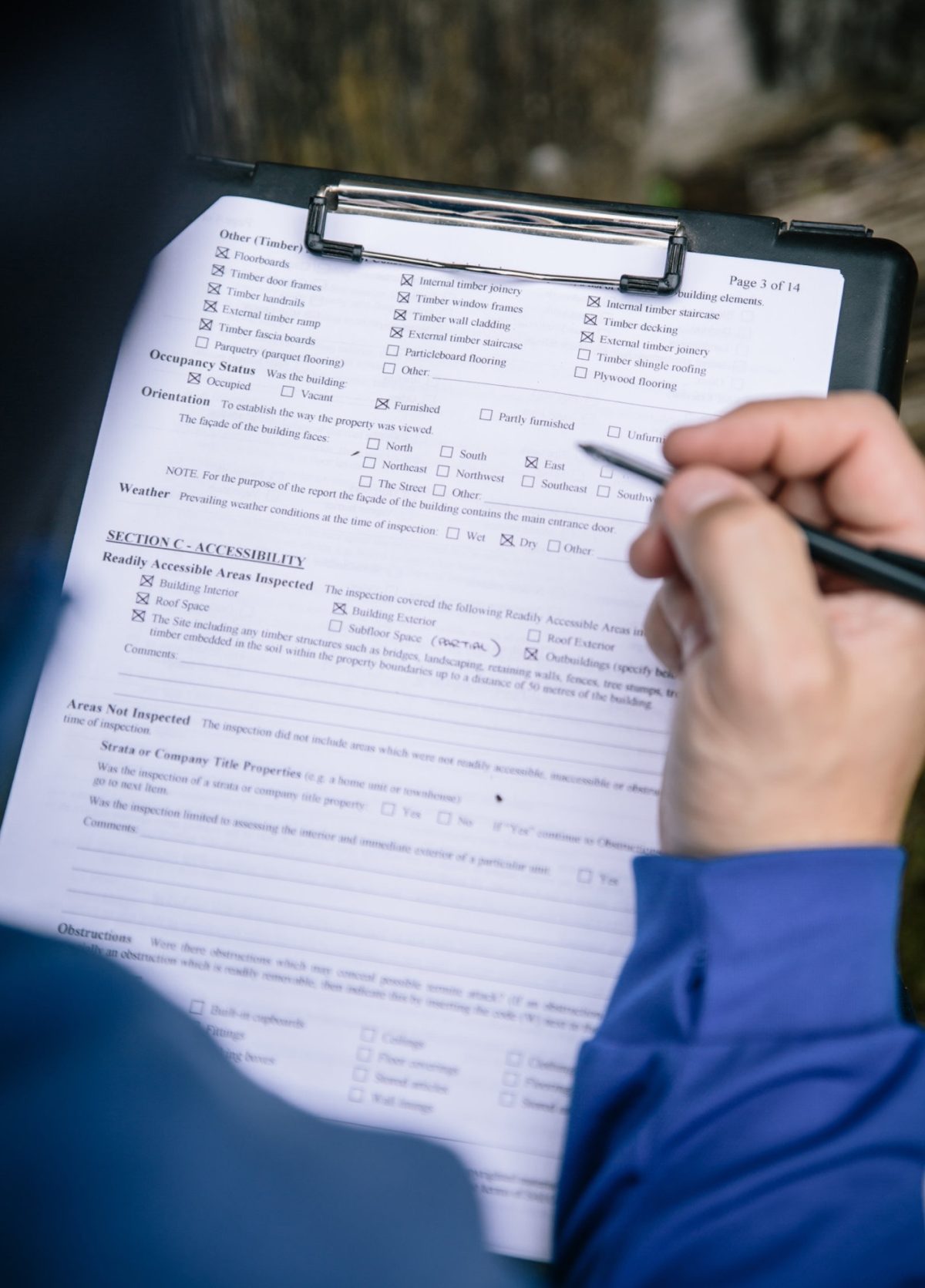 What Information Is In The Termite Inspection Report? 
We will discuss any findings with you directly, but the key output is a comprehensive written report (minimum 20 x A4 pages) with photos detailing:
Any visual evidence of current termite activity (species, location, extent)
The extent and location of any termite damage
Any borer and wood decay activity and damage
Any construction issues and environmental conditions that make your property more likely to come under termite attack
A summary of the risk of ongoing and future damage to your property
Recommendations for solving construction and environmental issues to make the property less likely to suffer a termite attack
Report on any pre-existing termite management systems in place and make recommendations to ensure its effectiveness, whilst educating you on the maintenance requirements
Recommendations for a termite management plan to eliminate any current infestation and aid in reducing any risk of future infestations
FAQs
Australian Standards, governments and building authorities all state that buildings should be inspected for termites at least annually, but more frequently in areas of high termite pressure.

Treat your annual termite inspection as part of your insurance policy on your home (as termite damage is not included in your standard home insurance policy).
The amount of time it takes for a termite inspection will depend on the size of the house, its construction (eg. does it have a sub-floor?), any outbuildings and the size of the property. Inspections will take at least 2 hours but can take considerably longer for larger properties.
All our inspectors are fully qualified, licensed and insured to carry out termite inspections. We are happy to show you our licenses and provide a copy of our insurance on request. Pest control companies need to provide this information – it's a good way to check you are engaging a reputable company to provide the service.
Termite inspections and pre-purchase timber pest inspections are similar but not the same.
- A termite inspection is carried out on a property you own and is specifically looking for termite activity, termite damage and construction/environmental conditions conducive to termite attack. (When we do our termite inspections, we will still report on borer activity and timber decay).
- A pre-purchase timber pest inspection is an inspection carried out by a potential property purchaser before agreeing to buy. It is looking for termite and borer activity, as well as timber decay (collectively timber pests), as well as any damage and construction / environmental conditions that would create a potential issue in the future – all important information when deciding to buy and negotiating a price.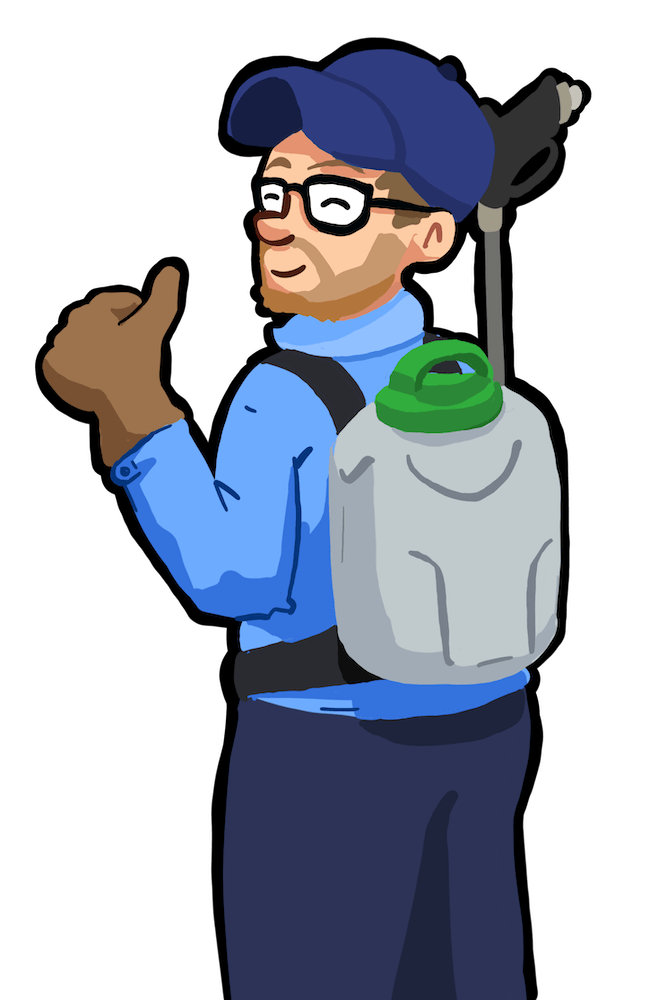 Signs Of Termite Activity 
Although a professional termite inspection is a must to pick up the subtle signs of a termite infestation, check out our blog post for the four key signs of termite activity that every homeowner should know.
If you spot something suspicious, call Spiderman SE immediately to arrange an immediate inspection.