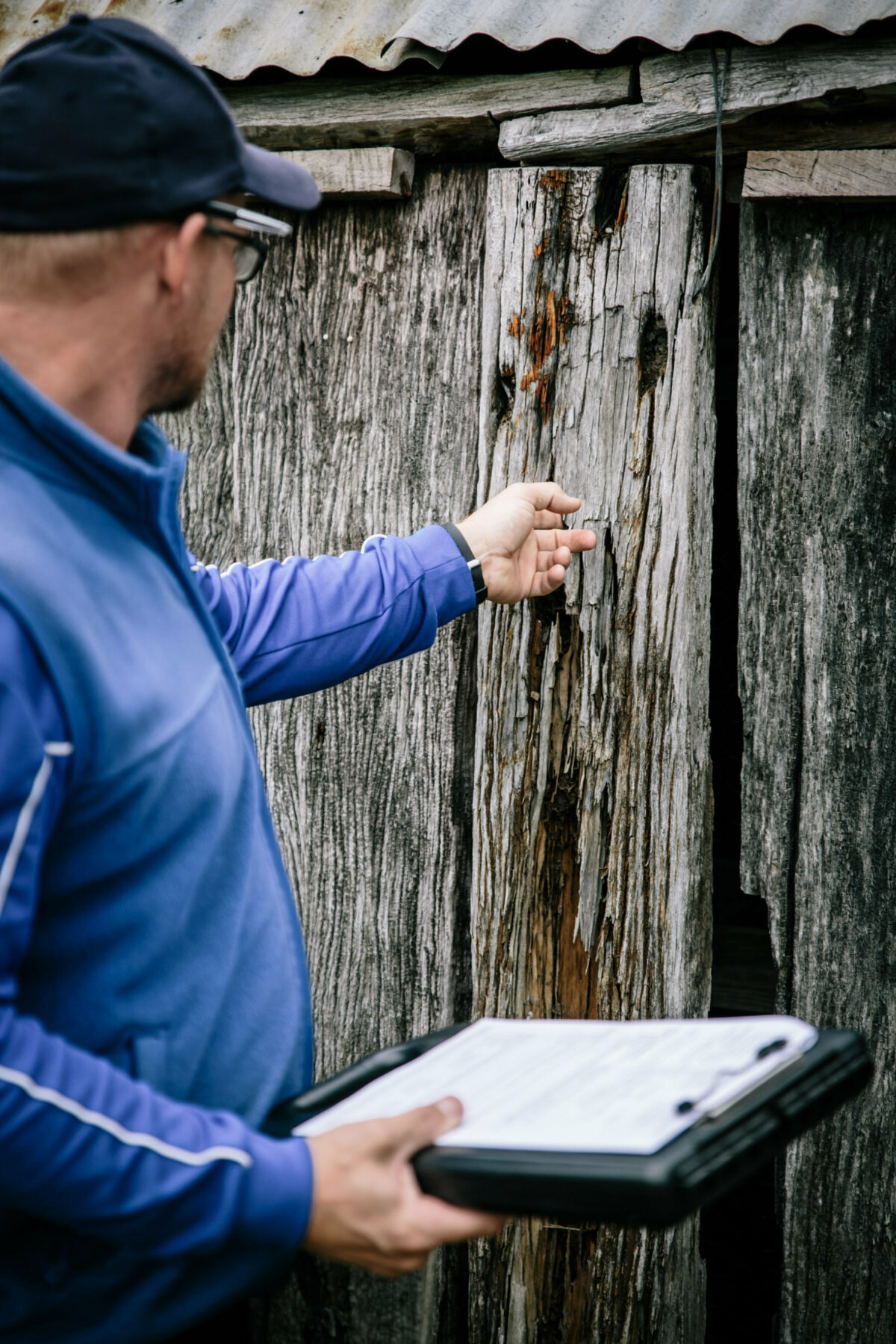 Our Comprehensive Pre-Purchase Pest Inspection
All our pre-purchase pest inspections are carried out according to Australian standards 4349.3-2010 and the AEPMA Code of Practice for Prior to Purchase Specialist Timber Pest Inspections
Although commonly called pre-purchase pest inspections, the correct term is pre-purchase timber pest inspection as they are focused on inspecting the property for a range of timber pests – termites, borers and wood decay.
The purpose of the inspection is to determine
The presence and level of any timber pest activity 
The amount and location of any damage caused by timber pests
Whether there are any construction issues or environmental conditions conducive to timber pest attack
Important:
The pre-purchase inspection is a visible inspection only. We are not allowed to move any items or cause damage by probing materials. If we cannot access particular areas, we will report it as inaccessible.
Beware:
It is not uncommon for sellers to hide or prevent access to problem areas. Spiderman SE is pretty good at spotting these tricks and we will report any suspicious areas to which you should request further access or an invasive inspection (which the seller may or may not allow).
The report will document
Any visual evidence of current timber pest activity (termite, borer, wood decay)
The extent and location of any timber pest damage
Any construction issues and environmental conditions that make the property more susceptible to future timber pest attack
A summary of the risk of ongoing and future damage to the property
Recommendations for solving construction and environmental issues to make the property less likely to suffer timber pest damage
Report on any pre-existing termite management systems in place 
Recommendations for a termite management plan to eliminate any current infestation and aid in reducing any risk of future infestations
Our professional pre-purchase pest inspections can help you buy with confidence.
Call to book your pre-purchase pest inspection.
FAQs
- Inspect all buildings, structures and attachments within the property boundaries. This includes full inspection every room in turn and of the roof void and subfloor areas (if present)

- Inspect timber fences, decks, pergolas, outbuildings, trees and landscape timbers in a 50m radius of the main building (within the property boundaries)
You are welcome to be on-site whilst we carry out the inspection so we can point out any issues first hand. However, our comprehensive 20+ page report with photos provides you with the formal, legal report on which you should base any decisions. We can of course discuss any questions you may have on reading the report.

We aim to get the inspection report emailed to you within 48 hours of the inspection.
Although it is a visible inspection, we can use a range of equipment to help us pick up leaks, areas of moisture and termite activity. Typically, we use a donger for sounding wood, a moisture meter and the Termatrac device for picking up termite activity behind walls. Check out our termite inspection page for more details.
All our inspectors are fully qualified, licensed and insured to carry out pre-purchase timber pest inspections. We are happy to show you our licenses and provide a copy of our insurance if you request. Pest control companies need to provide this information – it's a good way to check you are engaging a reputable company to provide the service. Engaging an insured and qualified professional is important when you are making such an important financial decision.